2016 Cuvée Constantin Chardonnay Magnum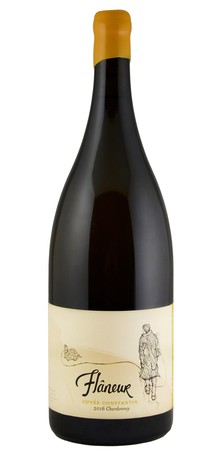 Our Cuvée Constatin is a nod to the original Flâneur. When renowned poet Charles Baudelaire first wrote about the Flâneur, the connoisseur of modern life, Constantin Guys was his inspiration. Constantin was a stroller, observer and painter of the crowds in the streets of Paris in the mid-19th century.
Robust aromas of ripe, golden orchard fruits, brown spices, and honey follow through on a round, weighty palate that is balanced with high, well integrated acidity. 15 clones of chardonnay, that have been co-planted and co-harvested, make up this wine, providing a array of characteristics and complexity.
Bottled: March 2018 (245 cases produced)
Alc %/ Vol: 13.6
pH: 3.21
TA: 6.6 g/L
Elevage: 17 months in French oak barrels, 25% new


25% La Belle Promenade Vineyard
AVA: Chehalem Mountains • Elevation: 700-820 Ft. • Exposure: North East/South West
Soils: Volcanic (Jory/ Nekia) • Native Yeast Fermentation • Farming Practices: Dry farmed/ Organic Principles
La Belle Promenade is comprised of 33 acres of volcanic soils, with the western portion of the site consisting of a thick layer of fractured basalt. The vineyard was planted in 2014 to 26 acres of Pinot Noir, 5 acres of Chardonnay and 2 acres of Pinot Meunier. Due in part to its high elevation, this site allows for great diversity in concert with our other estate vineyard.

75% X-Novo Vineyard
AVA: Eola-Amity • Elevation: 550 Ft. • Exposure: East/ South East • Soils: Volcanic/ decomposed basalt • Clones: 15 clones of Chardonnay, planted row by row, co-harvested
Native Yeast Fermentation • Farming Practices: Sustainable
This is a beautiful site planted with a mix of clones, collected by the owner, Craig Williams, throughout his years working in California wine industry. The finished wines from these deep Jory soils yield a vivid wine that explodes with juicy red fruit.