2020 Flanieren Pinot Noir - German Collaboration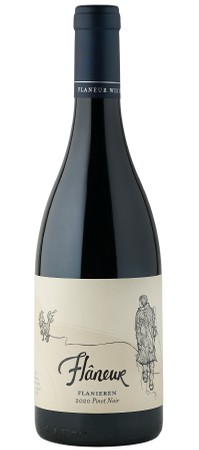 We are excited to introduce you to a collaboration that allowed us to explore a friendship paralleled by a history of Flâneur's European roots, our adoration for exploration, appreciation for diversity in terroir and winemaking philosophy. Throughout 2023 we are releasing two 2020 club exclusive Pinot Noirs that were made possible by our friend and second generation Winemaker, Fritz of the iconic Weingut Friedrich Becker in the Pfalz region of Germany. Starting with this the 2020 Flanieren Pinot Noir crafted from world class vineyards in the Pfalz region of Germany.
FLANIEREN: German for a NOBLE SAUNTER.
Wine Profile
Tasting Notes
Pronounced aromas of pine tree, rose petal, currant and boysenberry meld into a gorgeous bouquet. Flavors are abundant with lifting notes of cranberry, raspberry, rose and forest floor. The cool-climate of the Pfalz is truly evident on the palate. This wine is not shy of texture with brisk acidity and firm tannins that awaken the palate and linger. Flanieren's taut texture will soften and integrate with age if patient enough not to explore this foreign gem just yet.