96 Point Pack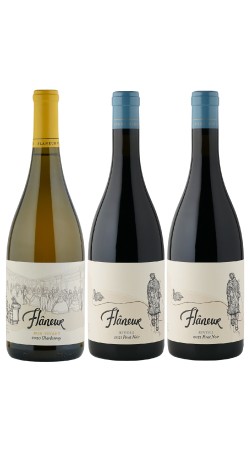 This club exclusive trio includes two of our highest ranked current releases both scoring 96 points from Wine Critic, Jeremy Young at the International Wine Report.
Included:
1 bottle: 2020 Bon Vivant Chardonnay | $95
Each year when crafting the Bon Vivant Chardonnay, our winemaking team selects only the finest barrels in our cellar to assemble our most exceptional expression of the varietal. As our most limited offering of Chardonnay, the Bon Vivant truly lives up to its name of luxury and leisure.
96 Points, International Wines Report
"Selecting only the best barrels from the vintage, the 2020 Bon Vivant sports a gorgeous light, but moves to a medium lemon core with a silvery rim in the glass. Starting off with some crushed rock and flint minerality on the nose, it follows up with notes of grilled lemon, fresh white peach, warm allspice, and hints of cedary herbs. Elegant and refined on the palate, the lush mouthfeel pops with stone-fruit goodness and shades of white grapefruit citrus, ending with a toasty cinnamon aspect on the back palate. Highly recommended." - Jeremy Young
2 bottles: 2021 Rivoli Pinot Noir | $75
Rivoli is a club exclusive bottling from La Belle Promenade Vineyard. Rivoli has long been an iconic Parisian street infused with art, history, and bustling life; an ideal promenade in which the Flâneur can feel one's most self. With a sip of Rivoli, we invite you to imagine where you feel most like the Flaneur.
96 Points, International Wines Report
"A club-exclusive bottling from the Flaneur La Belle Promenade Vineyard, it's an incredible bottle of Pinot Noir that checks all the boxes. Incredibly balanced with notes of hillside huckleberries, red plum, black cherry, sweet allspice, cedary herbs, black licorice, and tilled earth that explode on the nose. It's fermented with 60% whole cluster that brings a lovely texture to the wine, and some added tannin spice. It's smooth with no rough edges and is a wine I highly recommend." - Jeremy Young