Members Only Collection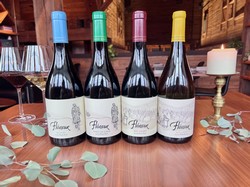 Shop our 2022 Holiday Collection and receive automatic $25 flat rate ground shipping through December 22nd.
Members, this set is just for you, or that special person you choose to gift it to!
Come cellar season, the best of our best barrels from each vintage are selected for these four bottlings, Revelry, Esprit de Cops and the Bon Vivants. These club exclusive gems are the most expressive examples of our estate vineyards, crafted to be celebrated over. Just like the Flâneur would, enjoy the subtle details and pronounced beauties found in each of these wines as they're layered with them.
INCLUDED
1 bottle – 2019 Revelry Pinot Noir
1 bottle – 2019 Esprit de Corps
1 bottle – 2019 Bon Vivant Pinot Noir
1 bottle – 2020 Bon Vivant Chardonnay
All holiday gift sets will arrive in a logo'd Flâneur Wines shipping box. Each bottle will be gift wrapped in Flâneur branded tissue paper and will include a post card with gift set description and a complimentary shipping promocode for the recipient's next order with us.
Gift messages can be included at check-out and will be included in the order.