Constantin's Collection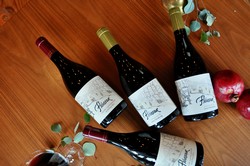 Shop our 2022 Holiday Collection and receive automatic $25 flat rate ground shipping through December 22nd.
A flâneur is, quite simply, a leisurely wanderer, a worldly explorer, a connoisseur of life. The word, hailing from 19th-century France, captures the idea that the mind functions best at a slow pace, and that curiosity can uncover a life of significance. 19th- century French poet and writer, Charles Baudelaire wrote so eloquently of a man whom he considered to be the ultimate Flâneur, Constantin Guys. Constantin, a reporter turned painter would sit alone among the crowds, hustle and bustle, capturing movement around him as a passionate spectator of life. This collection is an ode to Constantin Guys, a flâneur, the painter of modern life.
INCLUDED
2 bottles – 2018 Cuvée Constantin Pinot Noir
2 bottles – 2020 Cuvée Constantin Chardonnay


All holiday gift sets will arrive in a logo'd Flâneur Wines shipping box. Each bottle will be gift wrapped in Flâneur branded tissue paper and will include a post card with gift set description and a complimentary shipping promocode for the recipient's next order with us.
Gift messages can be included at check-out and will be included in the order.