Dinner & Aligoté Discussion at Little Bird Bistro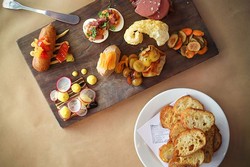 Aligoté, an often overlooked white varietal from Burgundy, is experiencing a renaissance. While the more popular Burgundian varietals, Pinot Noir and Chardonnay, have found a comfortable home here in Oregon, Aligoté's charm is beginning to grace the soils of a growing number of vineyards in the Willamette Valley. Flâneur wines is one winery committed to the varietal and will soon produce their own Aligoté. Join us for a discussion and tasting of this French varietal, followed by 2 courses and 1 savory cheese course paired with Flâneur's Burgundy inspired Chardonnay and Pinot Noir.

Seating is extremely limited for this very special global discovery dinner that explores some of the most interesting and well produced Aligoté offerings from vintners in the US and beyond. Click the link below to purchase tickets while they last!
Only a few seats remain for this one-of-a-kind experience, so buy them before they disappear!