Holiday Dinner Magnum Collection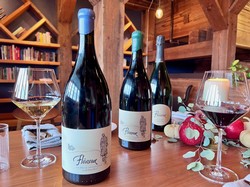 Shop our 2022 Holiday Collection and receive automatic $25 flat rate ground shipping through December 22nd.
At Flaneur Wines we live by the idea that some of the best things in life are uncovered without intention, and that life—like a good wine—should be appreciated, enjoyed and shared with those that we love. Show up to holiday gatherings in a BIG way this season with a magnum or more of Flâneur.
INCLUDED
1 bottle – 2018 Extra Brut Sparkling Wine 1.5L
1 bottle – 2018 La Belle Promenade Pinot Noir 1.5L
1 bottle – 2018 Flanerie Vineyard Pinot Noir 1.5L
This Holiday Set includes a post card with gift set description and a complimentary shipping promocode for the recipient's next order with us.
Gift messages can be included at check-out and will be included in the order.