Back Vintage Collector's Case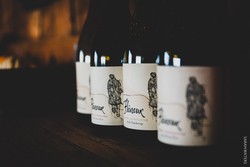 Shop our 2022 Holiday Collection and receive automatic $25 flat rate ground shipping through December 22nd.
Calling all collectors!
Although some of these wines have plenty of life left, they are becoming scarce and sparse among our cellar. We have created this mixed case of back vintage wines to show off the age-worthiness that has been created from a perfect combination of our estate terroir and phenomenal winemaking. Continue to age these wines for years to come or enjoy where they are today - we definitely are.
Club members receive a discounted price (current vintage pricing) of $710 when logging in with the email associated with your club account.
INCLUDED
2 bottles – 2016 X-Novo Pinot Noir
2 bottles - 2016 Cuvée Constantin Pinot Noir
2 bottles - 2015 Flanerie Vineyard Pinot Noir
2 bottles - 2014 Flanerie Vineyard Pinot Noir
2 bottles - 2017 Cuvée Constantin Chardonnay
2 bottles - 2016 La Belle Promenade Chardonnay
All holiday gift sets will arrive in a logo'd Flâneur Wines shipping box. Each bottle will be gift wrapped in Flâneur branded tissue paper and will include a post card with gift set description and a complimentary shipping promocode for the recipient's next order with us.
Gift messages can be included at check-out and will be included in the order.