Worldly Explorer Collection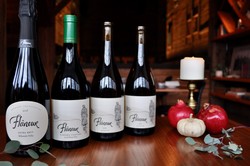 Includes Two Logo'd Yeti Wine Glasses!

The Worldly Explorer Collection is for the flâneurs who find a life of peace and pleasure while leisurely wandering and exploring. Take Flâneur Wines along on these worldly explorations. Like Charles Baudelaire once wrote, "For the perfect flâneur, for the passionate spectator, it is an immense joy to set up house in the heart of the multitude, amid the ebb and flow of movement, in the midst of the fugitive and the infinite. To be away from home and yet to feel oneself everywhere at home.".
INCLUDED
2 - Flâneur Logo'd Yeti Wine Glasses (not pictured here)
2 bottles - 2021 La Belle Promenade Aligoté
1 bottle - 2018 Extra Brut Sparkling Wine
1 bottle - 2018 Flânerie Vineyard Pinot Noir
All holiday gift sets will arrive in a logo'd Flâneur Wines shipping box. Each bottle will be gift wrapped in Flâneur branded tissue paper and will include a post card with gift set description and a complimentary shipping promocode for the recipient's next order with us.
Gift messages can be included at check-out and will be included in the order.