Site Specific Selection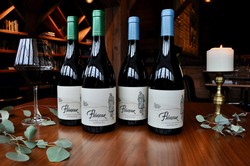 Shop our 2022 Holiday Collection and receive automatic $25 flat rate ground shipping through December 22nd.
It all starts in the vineyard…
Explore the individuality of terroir from our two estates, La Belle Promenade, the harmonious treble, and Flanerie, the bold and steady bass. These two dramatically different sites have been expertly farmed in house by our Vineyard Manager, Jaime Cantu, and Winemaker, Grant Counter. We've taken a sustainable approach to our viticulture practices, farming organically, and choosing to dry farm each site to preserve integrity for the future. We truly believe our appreciation and respect for the land can be noticed in the terroir you can taste in every bottle.
Flâneur Wines is a proud member of The Deep Roots Coalition.
INCLUDED
2 bottles - 2018 La Belle Promenade Pinot Noir
2 bottles - 2018 Flânerie Vineyard Pinot Noir
All holiday gift sets will arrive in a logo'd Flâneur Wines shipping box. Each bottle will be gift wrapped in Flâneur branded tissue paper and will include a post card with gift set description and a complimentary shipping promocode for the recipient's next order with us.
Gift messages can be included at check-out and will be included in the order.